Welcome to
Residenza Paolo VI
The Residenza Paolo VI, established on the premises of an Augustinian Monastery, was inaugurated at the beginning of the Holy Year 2000. The genius loci and the charm of tradition, still alive in its ancient walls,make this property your "private" haven in Rome, far away from chaos, in the pulsing heart of the Eternal City. Rome has many hotels, but only one of them is located directly on St. Peter's Square (Vatican): Residenza Paolo VI, the ideal place for those wishing to stay in the heart of Christendom, close to St. Peter's Basilica, the Vatican Grottoes, the Necropolis, St Peter's and Saint John Paul II's tombs, the Vatican Gardens and St. Angel's Castle. Walking along the Vatican Wall, it's easy to reach the Vatican Museums and visit the famous Sistine Chapel. Furthermore, some of our rooms offer special view of the Holy Office or of the internal courtyard of the ancient monastery or even of St. Peter's Dome. From our magnificent Terrace it is possible to admire up close St. Peter's Basilica and the Apostolic Palace, exactly
where the Holy Father Pope Francis appears to bless the faithful and to recite the Sunday Angelus.This makes our house a unique "home from home" for visitors to Rome who want something entirely different, and explains why connoisseurs recommend it to their closest friends. Our new "Beletage" with six Deluxe-Superior Rooms and one Suite, divided in living room and bedroom is located on the second floor of the building. The names of the rooms, inspired by the greatest Italian artist such as Michelangelo and Bernini, give you an idee of the elegance and tastefulness of the furniture, designed right down to the smallest details. Highest comfort combined with the appropriate privacy make you feel at home in the heart of the Vatican. We look forward to welcoming you as our guest.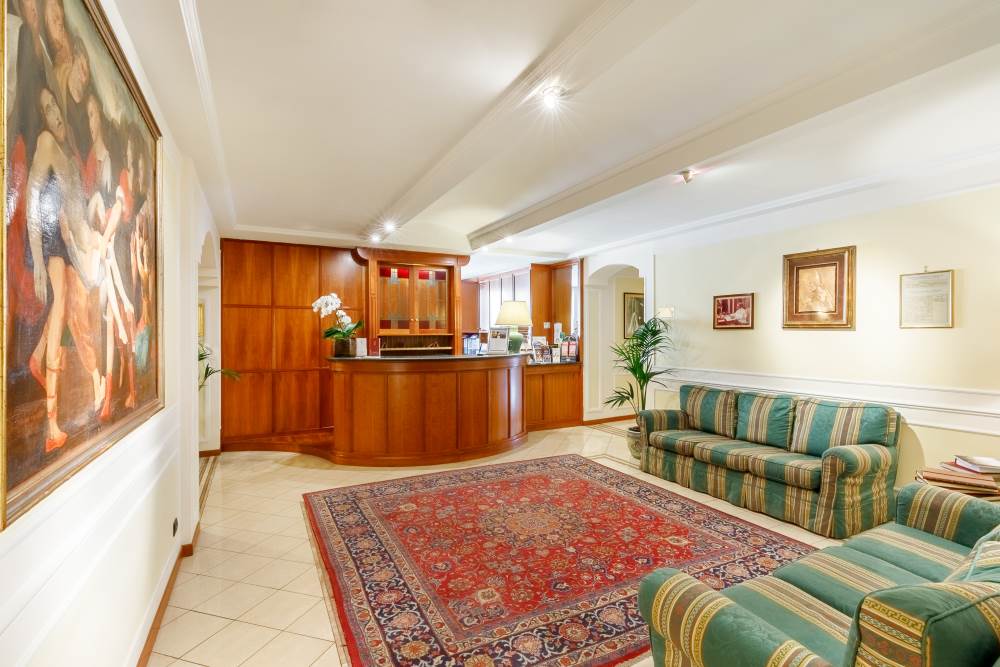 Welcome to presciousness
A landmark for worldwide travellers
From the moment of your check in to the moment you leave the Residenza Paolo VI, our friendly and knowledgeable staff is available to meet your requirements. If you need tips for sightseeing tours, information of events in the Vatican, booking of free entrance tickets for the general audience with the Holy Father or restaurant recommendations and transportation reservations, our reception staff is happy to assist you in all your needs. Free Wi-Fi access is available in all rooms and common areas.

LOCATION
Only ten steps to Piazza San Pietro
Only ten steps that separate the guests of the Residenza Paolo VI, adjacent to Piazza San Pietro, from the center of the Christian world. Its privileged position allows you to easily reach all the city's many cultural attractions. Also near the Residenza Paolo VI there are restaurants, bars, theaters and cinemas to fully enjoy the famous Roman life.